Tips for Current and Future Art Buyers
Aug 20, 2019
Over the years, I've sold a lot of artwork, and helped a lot of buyers choose formats and sizes that will work best in their homes. It's part of my job that I really enjoy. Art is about communication, after all - and if something I made touches someone and moves them to have it in their home, that's about as good as it gets.

I spent a couple years working in fine art print galleries and working as a framer. That gives me the experience to ensure the quality of the framing and printing I offer, and to make sure it's what I want to represent me. It also helps me help you choose the right size and style of print. Here's a photo montage of just a few examples of art in my customer's homes, and some tips.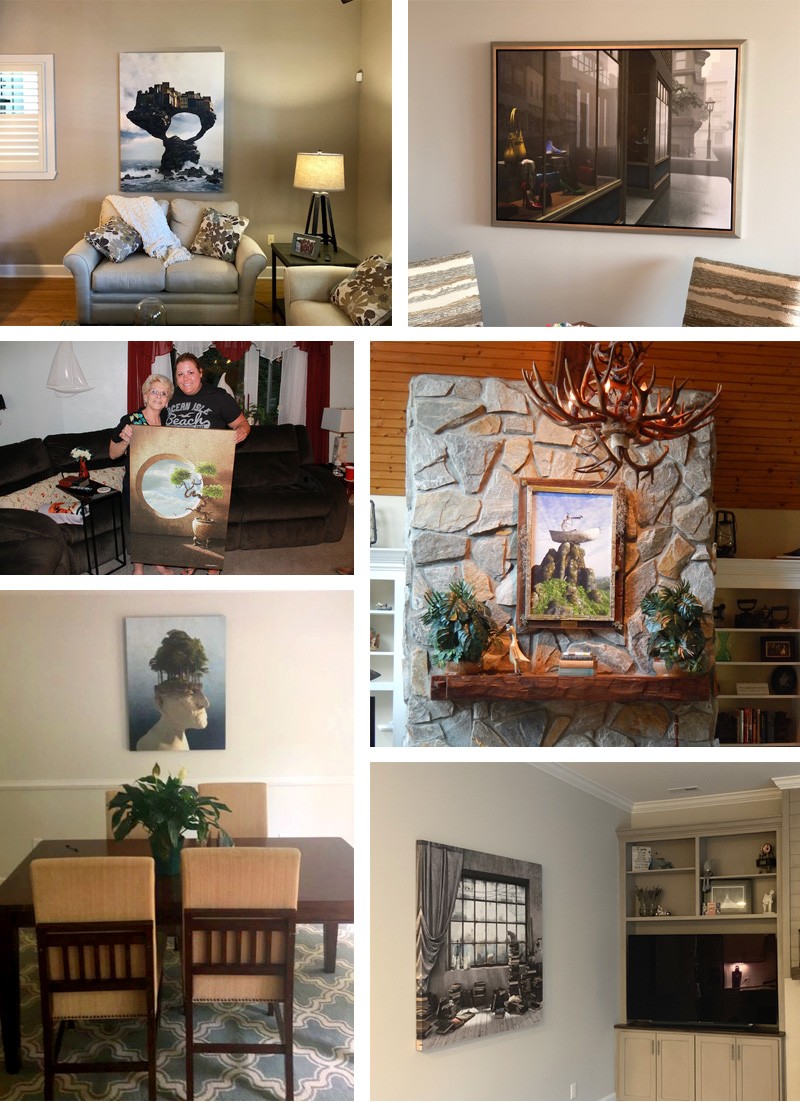 1. Size. The biggest single regret I've heard from my customers is that they didn't buy big enough. Look at the image on the top left. That was a custom wrapped canvas and it's 60" tall. That's huge - but on that wall it looks great and anything smaller would seem dinky and not have the same impact. You can use the augmented reality tool I have on this site with your phone to try out different images and sizes right on your own walls. I also recommend getting a big sheet of matboard or cardboard and physically put it up on your wall so you can get a sense of what size works with the space, and how big you can go with your art.

2. Framing. Thoughtful framing can elevate a piece or help to tie it in with existing art and furnishings. I try to keep framing costs on this site as low as I can, which hopefully makes it easier for you to get the exact look you want. Traditionally matted and framed prints can make a fantastic presentation alone or in groups. You can even put a frame on a metal print.

In the galleries that carry my art, I generally show canvas with a slim float black frame. However framing on canvas isn't always necessary. You can see a few unframed, wrapped canvases in the images above. The sides are finished; you can choose a black edge or a printed edge (the image is mirrored onto the sides of the canvas). It's a clean and modern look that tends to feel just a little more casual.

Generally, all frame stock is limited to sizes under 45" on the long side, so If you want a really big image, I recommend stretched unframed canvas or unframed metal. As always, if you want something special that you don't see on the site, let me know and I'll see what I can do.

I've had customers buy a bunch of notecards and put them in one frame with a multi-hole mat, I've had people buy unframed prints and mount them to canvases they buy at the art supply store, and I've had a few make elaborate frames themselves for prints they order from me. In the image above, you'll see my "Marooned" image (skeleton in a boat) on a customer's mantel. He bought the print from me and built a really great rustic custom frame from wood he salvaged from his property. The craftsmanship on the frame is wonderful, and it gives a great flavor and meaning to the artwork.

3. Location. It's important to pick the right type of print for the right location. Busy bathroom? Framed and matted prints or metal prints. Both options resist moisture and can be wiped clean. Metal prints are great for sheltered outdoor spaces. Glossy canvas is a good option for somewhat moist or messy areas - kitchens, restaurants, and less often used bathrooms, as it too can be easily wiped down. Bear in mind that the back of printed canvas is uncoated cotton and as such is vulnerable to extreme moisture or humidity.

All artwork should be kept out of direct sunlight. The pigmented prints I sell will outlive all of us, but they will fade if they are left to bake in full sun day after day. Put wall sculpture or other light proof decor on your walls that get full sun, and save the protected walls for your art and prints.

Be thoughtful about how close the viewer will be to the artwork when choosing size and format. If you want artwork that will be in a smaller area, where the viewer will be very close to it, choose a format that showcases fine detail, like a metal print or a framed and matted print. If you're hanging art in a stairwell or on a wall that is a distance away from the viewer, like behind a couch, choose a format that supports a larger size like a gallery wrapped canvas. Metal prints are great for large sizes too.
Both unframed gallery wrapped canvas and metal prints are inherently lightweight - which makes them great for over the bed or places where hanging something heavy would be a challenge. Consider reflections in the area as well. A traditionally framed and matted print with an acrylic face or a high gloss metal print will reflect whatever is directly across from it. For walls facing large windows I recommend non-glossy canvas or mid-gloss metal.

Look at this wall put together by a collector. These are metal prints, and they're big—36" for the squares and 45" for the vertical one. At eye level (the nighttime shot) the size is perfect, and the wall is very dramatic with the picture lights!

(By the way, picture lights are fantastic - they have battery operated versions with no wiring that operate by remote control. These are just $26 each. It's a wonderful way to highlight your art without making major alterations to your room lighting or doing any wiring. Picture lights also add a fantastic ambience to the room in the evenings.)

In the next photo, you can see that from ground level the perception changes and the prints look smaller, but because they're in a group and are related by color/style/print medium, they give a gallery feel that makes you want to go up the stairs and get a closer look. Their placement accentuates the height of the foyer in a very compelling way. The metal looks modern and is just right in this contemporary home.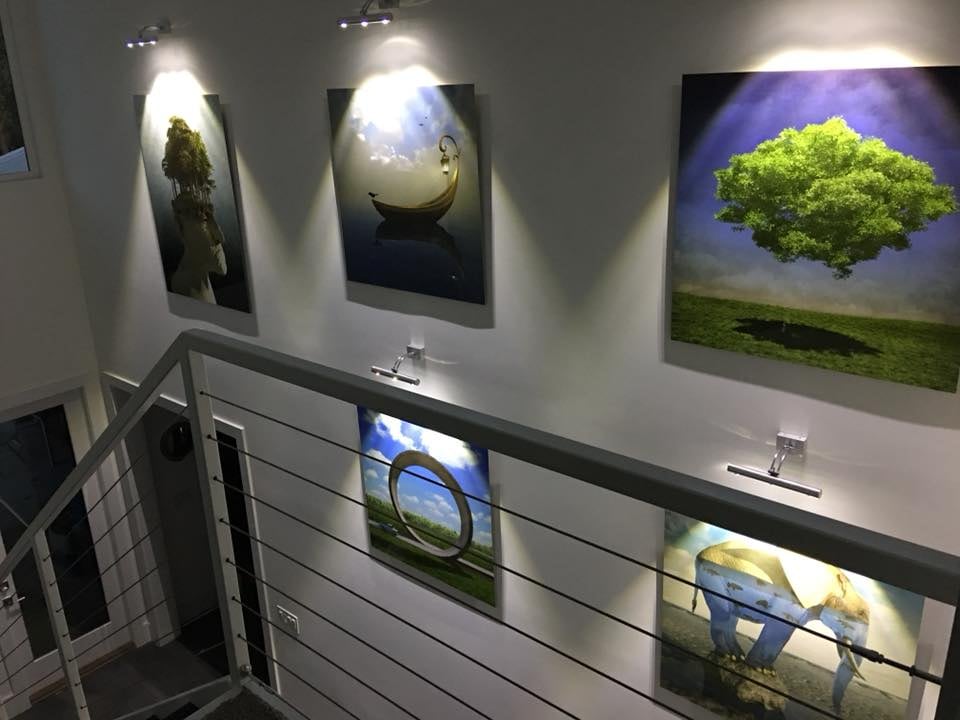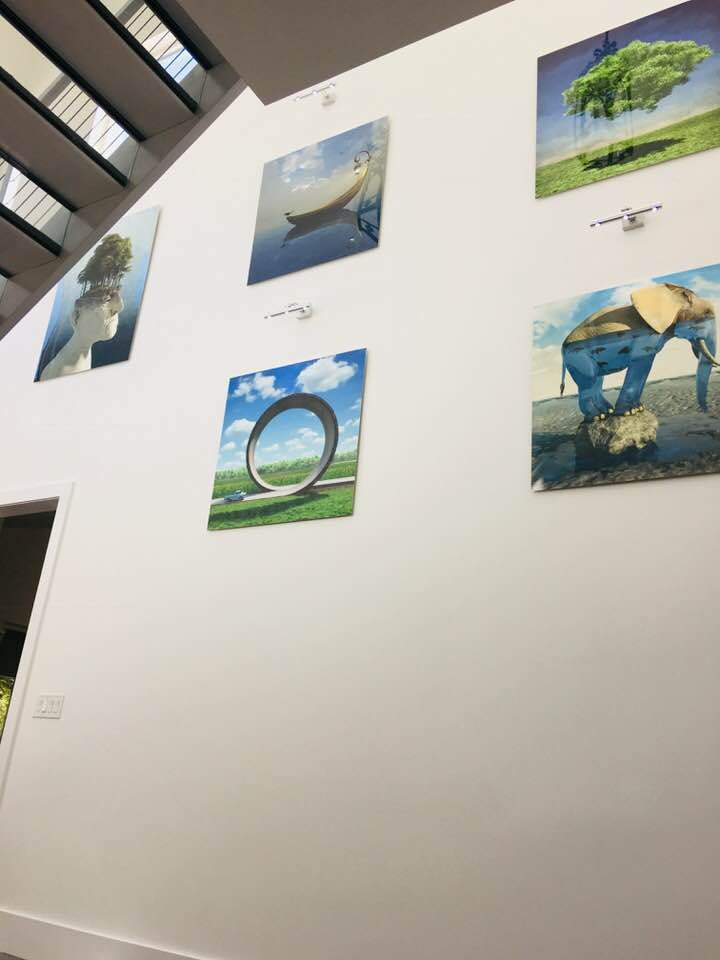 I offer different types of printing at different price points. I'd rather have someone be able to afford a small unframed print or a poster for $30 and have one of my images in their home than only cater to the high end art print buyer. Even my poster-level (photo paper) prints here on this site are fine art grade. I want people to love art and be able to own it.

The costs on labor and materials for printing and framing are high. I don't even come close to standard retail margins on the prints here in the store. But that's by choice, because as I mentioned earlier, I'd rather people be able to take my work home if they love it than leave it hanging on a gallery wall or not be able to find a print they can afford here on my site. This is also why I only offer small discounts if any. I am happy to work out layaway for larger images, and you can always email me with your budget and we can find something that works for you.

I think most people understand this, but when you buy art from an independent artist - in my case one that sells high end prints of their work - you're not just paying for the canvas, the ink, the frame, the labor to put it together, and the shipping costs. You're paying for the image; their vision, their time, their education and training, the research they put into that image, the time spent on sketches and tests and revisions and sample prints to get it just right. You're helping pay for the supplies used and you're helping pay for that artist's continued growth. My clients become part of my story as an artist. I remember each person I've worked with over the years, and I'm grateful to them and always will be.

After many years of selling artwork, I still do a big ol' happy dance whenever a person decides to invest in me and my artwork. I still get all excited when someone has questions or thoughts about a particular image. I've had people tell me such touching things about my own artwork that it brought me to tears. I love what I do, and I'd still make art even if I never showed it to anyone, but my followers and buyers inspire me on so many levels. I spend a lot of time being grateful, and feeling very lucky for being able to do what I do. Thank you for that.

If you have any questions or if you want some help choosing the right print size and format, just send me an email. I'll be really happy to work with you!