Image Insights: Bike Rack
Oct 07, 2019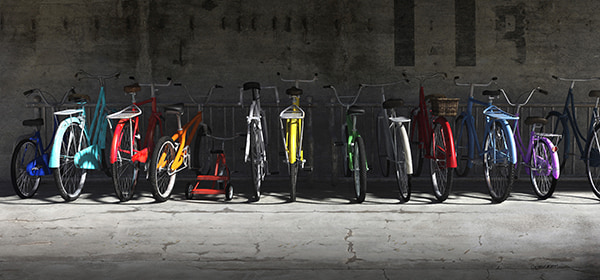 A simple inspiration is behind one of my most popular images. I was in downtown Charlotte, NC one afternoon, checking out a possible gallery location. Alongside an unassuming building, a row of bicycles waited in a rack for their owners to return.
What got me was the light. There was an overhang on the building so just the rear wheels were in the sun, and the loops of shadow against the otherwise shoddy concrete backdrop was so lovely I could barely tear my eyes away. I committed it to memory and spent a while thinking about it. I decided I wanted it to represent family, or community. That's why I added some kids bikes. The colors are simply because I love to use the full spectrum in my images, and it works especially well here to represent all the different kinds of families there are.
A little light, a little concrete, a little steel. One of my personal favorite images borne of such seemingly mundane ingredients. Magic really is everywhere, if you look.
A PEEK BEHIND THE CURTAIN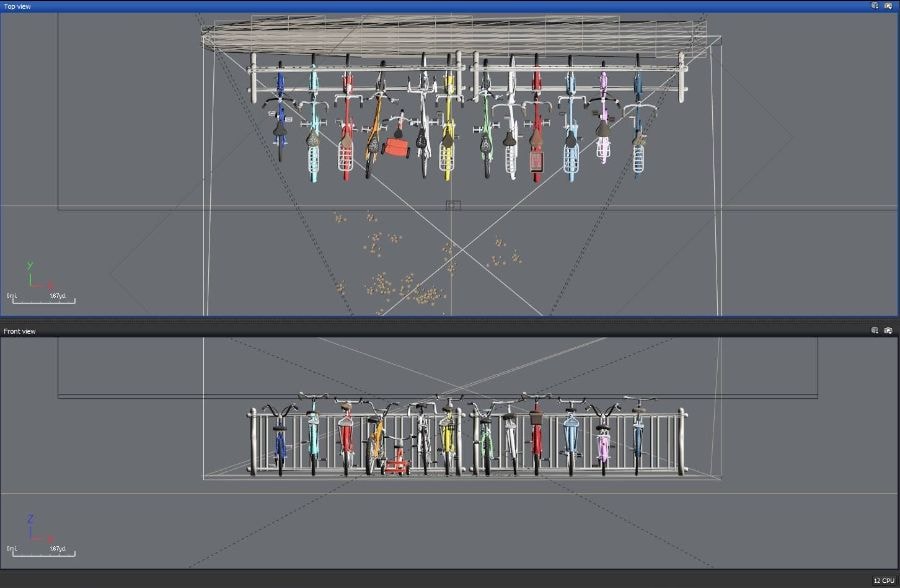 When they see it in person, most folks think this one is a photograph. It is one of my most realistic images. Here's a look at the bones of the scene in my 3D software. At the top you see an overhead view. This helps me get everything in place in relation to the other objects and the overall scene. At the bottom you see the "render view", which is basically the view that will become the final image. My software also has two other viewports, one for each side view.

Click here to read my blog entry about how 3D modeling and rendering works,and to see how my images are made.