Image Insights: StoryWorld
Feb 05, 2019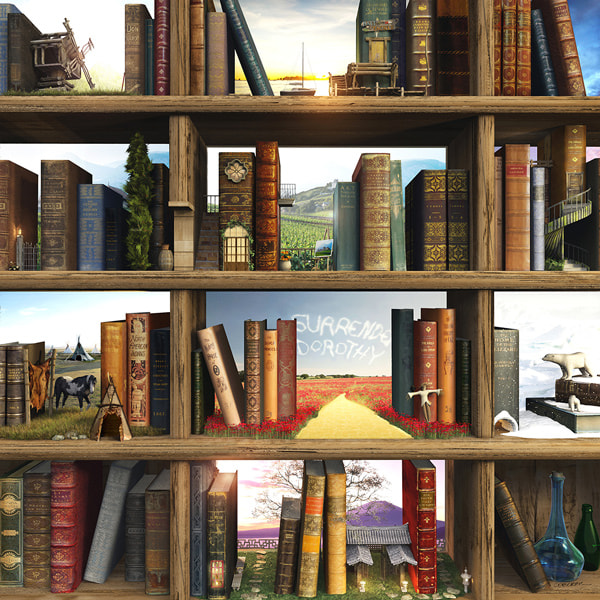 Storyworld is my best selling image. And I know it's because a love of reading is something so many of my followers and customers share.

Like all kids, I had my share of worries and fears. Things could be scary at home, stressful at school. My escape was always books and computer games. But books have always been special to me. When I read everything else falls away. I've always had a very vivid imagination (but you know that), so books became places. Characters became friends. I usually had two or three books going at any given time.

My parents also had a full set of encyclopedias, and shelves full of National Geographic magazines. I don't think anyone threw those away - all my friend's houses had similar collections. I used to love to page through those things. I'd open the encyclopedia to a random page and skim until I found something interesting. I'd get lost in pictures of far away places.

My local library was pretty much the best place on the planet. More books than I could ever read, and so many quiet, comfortable nooks in which to read them. One of my closest friends had a little library in their living room. Like a tucked away nook with books on all 4 sides. One of the shelves was filled with just about every Oz book. There were perhaps 20 of them, so many stories beyond just the one we all know so well. If I close my eyes now I can still see that shelf. I wanted to read every one of those books. I didn't, but I still might.

Storyworld is my love letter to all of those experiences. In some of the sections of this bookshelf, there is a book that has spawned it's own world. There's a vision of the prairie born of a book on Native Americans. There's a polar bear family that has made a den in a book about the Arctic. A marina with a tackle shop inside a book on fish. Each of the books on the shelves of Storyworld is a real book. I used actual antique book covers and titles, which I either scanned and painted over, or recreated from scratch. I spent weeks collecting images and making lists of books I could reference, and then from there I sorted them into categories that I wanted to represent as living worlds. I knew I wanted Oz from the start, which set up the literary fiction theme. I also knew I wanted a couple of travel related shelves, a couple of nods to history, and a reference shelf. I wanted to be sure I broke up the worlds with shelves that acted as visual breathers - just books and objects, or shelves with more subtle life in them.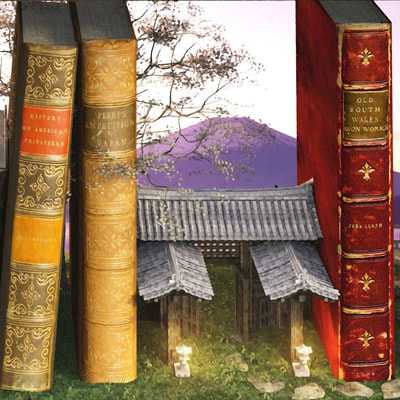 Mount Fuji looms in the background thanks to a copy of Perry's Expedition in Japan.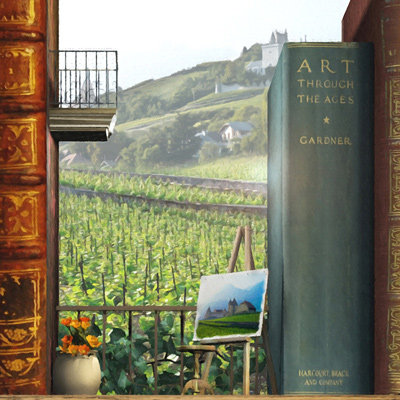 Of course there had to be an art book.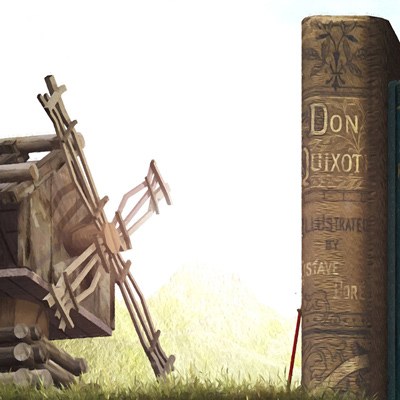 A forgotten lance leans up against an illustrated version of Don Quixote.
These days, my escapism can take the form of gardening, watching movies, playing video games, or of course making my own worlds with fancy technology. Still nothing quite compares to opening a book. It's like coming back to the best parts of my life, and looking forward to a new adventure all at the same time.