Getting Started with Digital Art & 3D Rendering
Feb 06, 2020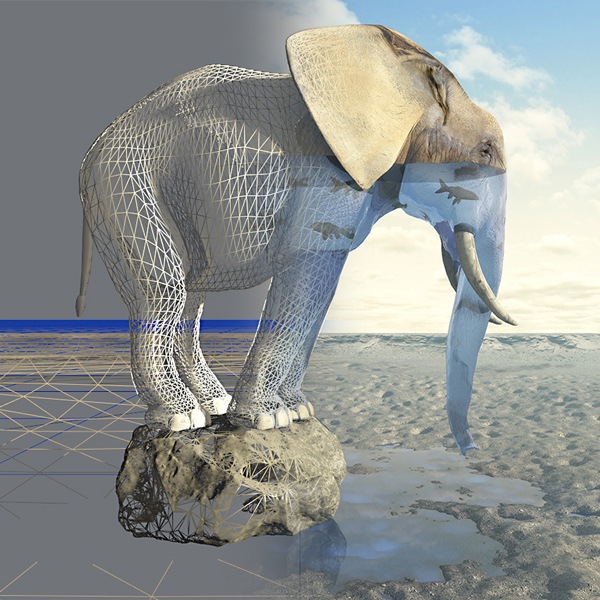 So, you want to try your hand at digital art but you don't know where to start? There are as many different ways to create art with your computer as there are ways to create art with traditional media, but I can share with you some of the tools and methods that are in my workflow, and give you links to beginner level free or low cost software with plenty of training resources. I'll cover 3D modeling, 3D environments, and digital editing and painting. Some will take a while to learn, some you can jump right in and start creating.

MAKING 3D OBJECTS

Do you like spreadsheets? Lego? Are you an engineer at heart? If so, you may really enjoy making digital doodads and objects with 3D modeling. There's a simple explanation of how digital 3D works here. If you have the concept down and want to give it a try, I recommend trying one of these two software packages.

Sketchup: A pretty robust set of modeling tools, and a good introduction into the basics of creating 3d objects. There's a free version and a paid version. Most of what I see coming out of Sketchup is architectural or mechanical, but you really can build just about anything. There's no organic modeling here, so you'll be learning to build by creating components and putting them together to make more complex shapes. Sketchup
Blender: An incredibly in depth program. Free. You can start from scratch with an overwhelming number of tools including particles, fur, organic modeling... and it's constantly being expanded and updated. There are volumes of beginner video tutorials available on Youtube, so you can jump right in and start making simple objects almost immediately. You can also grow with Blender, it has everything you need to make complete scenes. Blender

3D LANDSCAPES & ENVIRONMENTS

3D environment software is exactly what it sounds like. It provides you the stage to create a digital environment and populate it with natural elements, like mountains and lakes and forests and clouds. This is an incredibly fun way to play with 3d, and you can make really pretty images almost by accident. Like any software, there'll be a learning curve. Once you get a handle on the interface and controls though, you'll be having fun making digital landscapes. Blender (mentioned above), and other higher end 3d programs include environmental capabilities, but in the interest of keeping it simple here, I'm just listing standalone options.

Bryce: Bryce is where it all started for me. I began with Bryce as my first 3d program, almost 20 years ago now, and I have a soft spot for it. It's getting harder to find, and the latest Mac OS won't run it. That said, it's a gem for beginners. One caveat is that Bryce is unlike any other 3d landscape program. It's simple and somewhat limited, but the controls are geared more for an artist's mind than a technician's mind. You can jump right in with this one. It's $20, but you may be able to find earlier versions for less. Bryce 7
Terragen: I personally have never used Terragen, but I have seen some spectacular 3D landscape work done with it. Go to the site and look at the examples. It's another one that's been around for a while, so there are plenty of tutorials available for beginners. Oh, and it's free! Terragen

Flowscape: Flowscape is relatively new on the scene. I haven't tried it, but I've seen what it can do and it looks like a blast. Basically painting in 3D with nature. Go take a look. Flowscape

DIGITAL PAINTING
You can start digital painting with a keyboard and mouse, or just on your tablet or touchscreen laptop. But if you really want to get a feel for digital painting, I recommend you get a tablet. You can get a small one for about $50. Mine is a Wacom, it's what I've always used and I recommend them without reservation. They have lots of options and sizes. The tablet and pen will really unlock the potential of painting programs. Photoshop is one that most people recognize - it's not just for editing photos, it's a very feature packed painting program. However it is expensive, and is only available with a subscription (unless you buy an older standalone version). The good news is, there are outstanding alternatives!

GIMP: Basically, GIMP (GNU Image Manipulation Program) is Photoshop for free. You can't go wrong with it. I know many professional photographers and artists that use GIMP. Plenty of beginner tutorials, does everything you could ever need from an editing/painting program. GiMP

Painter Essentials: This is the beginner version of the painting software I use. Painter is a program that mimics natural media like watercolor, oil paint, you name it. With this program and a tablet with a pressure sensitive pen, you're digitally painting and drawing with simulated traditional media, without the cost of supplies or the mess. This is the program I use to overpaint my 3D images. Tutorials are available online and printed, and if you have some experience with drawing you should take to this like a fish to water. The only downside is it's $50, but I think they have a free trial you can check out before you buy. Painter Essentials
Krita: This one's pretty new, and I haven't used it myself, but it was recommended by a digital artist friend of mine. What I do know is it's free, and it looks like it has many of the same features Painter does. Krita

Affinity Designer: I haven't used this one, but the work I've seen come from artists using it is remarkable. It's $50, so a little more spendy, but might be worth it for an intermediate artist looking for a broader toolset. Affinity


That ought to be enough to get you started! Keep in mind there are plenty of other ways to make digital art that I haven't touched on here: video, photo manipulation, digital collage, installations, audio... the list goes on and on. If you're interested I recommend looking at the digital art collections of some of the world's major museums so you can get a sense of what artists are doing with digital media.
Happy creating!